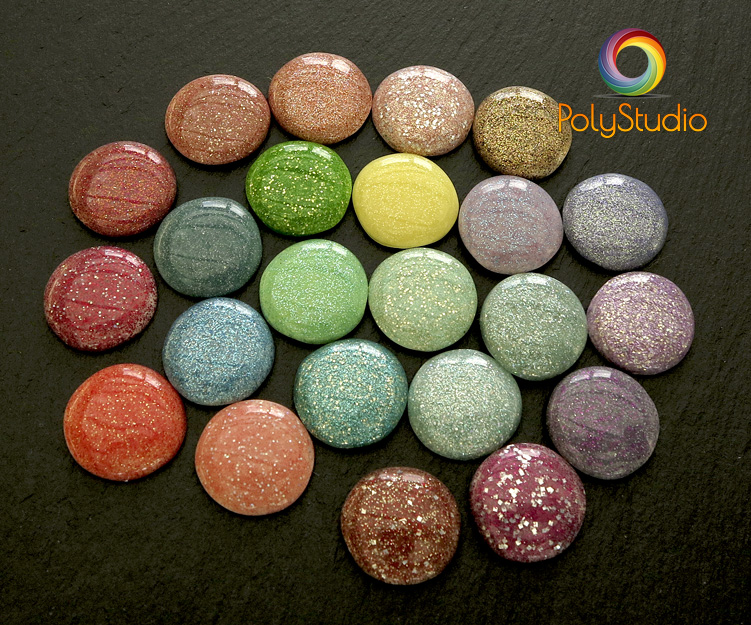 The greatest choice of colors and effects !
The WOW embossing powders are available in opaque colors, translucent, metallic, glitters… The range offers a large choice of shades, from hearthtones to metal, delicate mixed shades for subtle effects.

Mixed to translucent, opaque polymer clay etc., WOW embossing powders allows to get wonderful colors and effetcs. The embossing powder can also be used on surface, it will show its final appearance after baking.
The colored lentil shown on the picture with the powder jar is made by mixing powder with translucent clay. The more powder you will put in the clay and/or the thicker the layer is, the more intense the color will be.
Metallic Colors offer a range of metallic colors with a delicate shine. These powders are totally opaque (Metallic Brass WC03, Metallic Platinum WC06, etc.)
Glitters are colored embossing powders with varying sizes elements, depending on the reference, for glittering effects. The range of colors is very large and glitter blends create absolutely unique effects.
Earth Tone Colors are subtly natural colors, when you want to give a less shimmering and more "rustic" aspect to your projects (Paprika WJ00, Honey WJ02, Olive WJ03, etc.)
Primary Colors are translucent, used as embossing powders, they will reveal the color of the medium, paper, cardboard, etc. (Ebony WH00)
Opaque Primary Colors are highly pigmented and opaque colors. The resulting color is deep (Cardinal Red WK00, British Summer WK15, Primary Azure WK13)
Color Blends consist of a mixture of several powders (described above) to obtain original effects, such as the verdigris effect (Verdigris WL05) or even Perissa, a mixture of metallic powders and large powders caliber to obtain a texture effect (Perissa WL16)