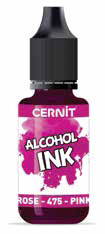 Cernit inks, original colors for unique creations
CERNIT non-acid inks are alcohol based and dry in the open air. They can be baked at the same time as polymer clay.
They are valuable aids for the work of the polymer clay, they can be mixed with the clay (translucent, liquid etc.) to create colors of translucent clay, but also be spread on the surface of the clay, with brushes, stencils, by projection, using a stamp etc. for brightly coloured creations.

Of course, these inks can be used on other media such as paper, cardboard, wood, glass, leather, metal, plastic, ceramic, stone, resin, etc. Calligraphers also appreciate the fluidity and intensity of these colors for their creations.

The colours are transparent and shiny after drying. White, Gold, Copper, Silver and Mother-of-pearl are opaque. It is possible to add color ink to the Pearl or White color to create pearly and/or pastel colors.
White works perfectly to achieve the Petri effect with resin.
All shades are miscible and can be thinned using the Diluent of the range (or with rubbing alcohol). A Cleaner is also available to clean your tools.